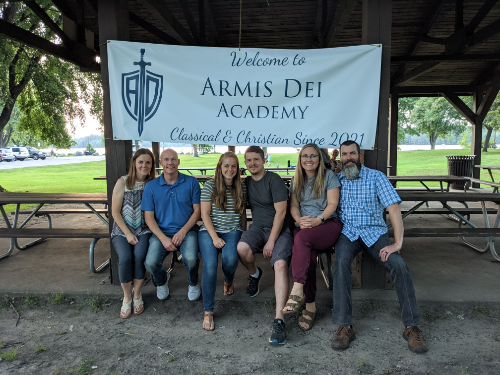 Armis Dei was born in the fall of 2021. We began with 3 teachers, several volunteers, and 38 students in grades 4k-5th. However, the seed of this school was planted more than a decade prior to 2021 with the Vander Galien family. Jeremy and Mandi Vander Galien are both educators. Once they began their family, they decided on homeschooling their children. One of the joys/anxieties of homeschooling is figuring out educational philosophy, methods, and curriculum. Through the influence of Susan Wise Bauer, Dorothy Sayers, and Douglas Wilson, they decided on using the classical approach to homeschooling. Mandi did most of the actual teaching and so became the most learned in the Classical model. Jeremy entered the pastorate in 2007 and immediately began to see a need to provide an alternative to public schools and homeschooling. This was the beginning of many years of study, contacting other schools, and planning in the hopes of one day starting a school.
Their family moved to Rhinelander in 2015 and they continued to consider beginning a school. In 2017, another family from their church, Joe and Kristin Guyette, asked Jeremy and Mandi about starting a school. Their children were reaching school age. Kristin was a public elementary school teacher and didn't want to continue in the public schools. They were eager to help start an alternative option. At about the same time another family, the Bajema's, had moved from Texas to Rhinelander and were interested in starting up the school. The Bajema's children, now grown, had been educated at a Classical, Christian School. Melodie Bajema worked as a school secretary for their Classical, Christian School for a number of years.
God providentially brought these 3 families together at one local church, Pine Grove Community Church. Another gem of God's providential leading and care, was that as these families were getting more serious about beginning a school, their church, Pine Grove, purchased, renovated, and moved into a new building. The new building had previously belonged to another church who had hosted a school. It contained twelve classrooms and additional spaces conducive to hosting a school! Under God's blessing, the church's new facility was perfect for a school. Though Armis Dei isn't officially connected to Pine Grove, the church has graciously given us the necessary space and room to grow.
This set the team to work in earnest. We met for the first time in March of 2019, laying foundational principles of what would become Armis Dei with the goal of launching in the fall of 2020. However, due to COVID and other family changes amongst the members, they decided to delay the start of the school a full year. During this year, all the necessary groundwork was completed and another family, the Codere family, was added to the start-up team. Sean and Bekka Codere were homeschooling in the Classical model and were excited about a school using the cooperative model.
The initial plan for Armis Dei was to open with grades K-2 with a goal of 20 students. Because of strong interest, the school ended up offering grades 4K-5 with 38 students. The students come from several local churches in various Northwoods communities. The school enjoys support amongst the local churches and has been well-received by the community. The first day of classes began on August 23, 2021. Armis Dei will be beginning the second school year in the fall of 2022.